So I may or may not have metioned that for school we have to wear hideous white scrubs. Lord only knows why b/c our school colors are blue (not navy, more like a royal blue), but I digress. For school we all have to wear all white scrubs, but thankfully we do get to pick from several different choices of the type of scrubs, and for me the only clear choice was Grey's Anatomy scrubs, they are SOOO soft. It's truly like wearing pj's & althought they are more expensive then the other scrubs I PROMISE the extra cost is worth it....or is it?
Recently I was contacted by
Uniformed Scrubs
to see if I wanted to try out one of their
Cherokee Scrub
tops. Uh hello? You're sending me a scrub top
FOR FREE
? Heck yeah! They told me to pick out a top & let them know the size & color that I wanted (actually my top 3 choices) so I emailed them back & voila, the top showed up in the mail. Here is the top I chose: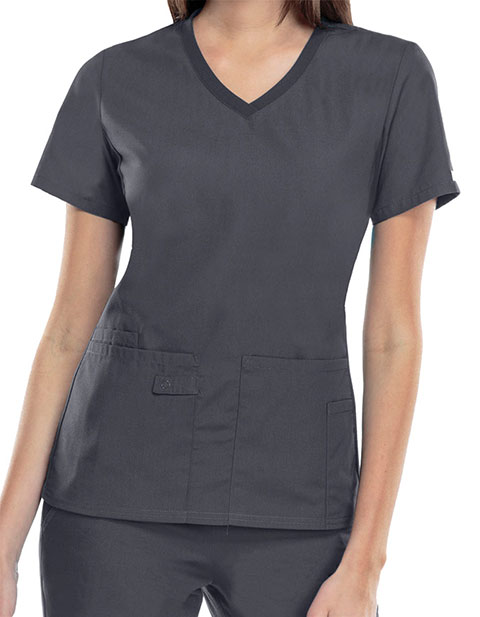 I love this color, but unfortunately I had to choose white so that I could wear it to clinical.
The review: The top I chose was the "Cherokee 1909 Pro-Flexible V-Neck Woman's Scrub Top"
Pro's: While not Grey's Anatomy soft, the material is still pretty comfy. As you can see this is one of those "paneled" tops where the sides are the soft, stretchy material which I really liked. I especially liked the fact that the side panels weren't ribbed. The 2nd best thing about this top was all of the pockets (which was better than GA). There was a pocket for pens, pen lights, scissors & notepads, all in separate compartments, very cool. I have been meaning to get one of those pocket holder thingies (you know the little pocket organizer that holds all of that stuff I just mentioned), but with this top you wouldn't need one because it has all of these great little compartments. Very handy. Con's: The only real con to me was that I would have liked for the bottom of the top not to have been so constricting. Possibly two little v's on each side would have made this top more comfortable, at least to me. Something. I just didn't really care for the restriction at the bottom, but other than that this top is pretty great, and the price is even better. Compared to my $34 GA top, this one was much more reasonable at $21.99. All in all I would say that I recommend this scrub top.
(*Disclaimer - While I was given this scrub top free of charge to review, I was not asked to give it any kind of rating except for my own truthful, personal opinion, which this was.)